Economic Incentives
Incentives are the core of decentralized systems. Fundamentally, actors in decentralized systems participate in a game where each actor attempts to maximize its utility. Designs of such decentralized systems need to encode a mechanism that provides clear incentives for actors to adhere to protocol rules while discouraging undesired behavior. Specifically, actors make risk-based decisions: payoffs associated with the execution of certain actions are compared against the risk incurred by the action. The BTC Parachain, being an open system with multiple distinct stakeholders, must hence offer a mechanism to assure honest participation outweighs subversive strategies.
The overall objective of the incentive mechanism is an optimization problem with private information in a dynamic setting. Users need to pay fees to Vaults in return for their service. On the one hand, user fees should be low enough to allow them to profit from having interBTC (e.g., if a user stands to gain from earning interest in a stablecoin system using interBTC, then the fee for issuing interBTC should not outweigh the interest gain).
On the other hand, fees need to be high enough to encourage Vaults to lock their DOT in the system and operate Vault clients. This problem is amplified as the BTC Parachain does not exist in isolation and Vaults can choose to participate in other protocols (e.g., staking, stablecoin issuance) as well. In the following, we outline the constraints we see, a viable incentive model, and pointers to further research questions we plan to solve by getting feedback from potential Vaults as well as quantitative modeling.
Currencies
The BTC-Parachain features four asset types:
BTC - the backing-asset (locked on Bitcoin)

interBTC - the issued cryptocurrency-backed asset (on Polkadot)

DOT - the currency used to pay for transaction fees

COL - the currencies used as collateral (e.g., DOT, KSM, …)
Actors: Roles, Risks, and Economics
The main question when designing the fee model for interBTC is: When are fees paid, by whom, and how much?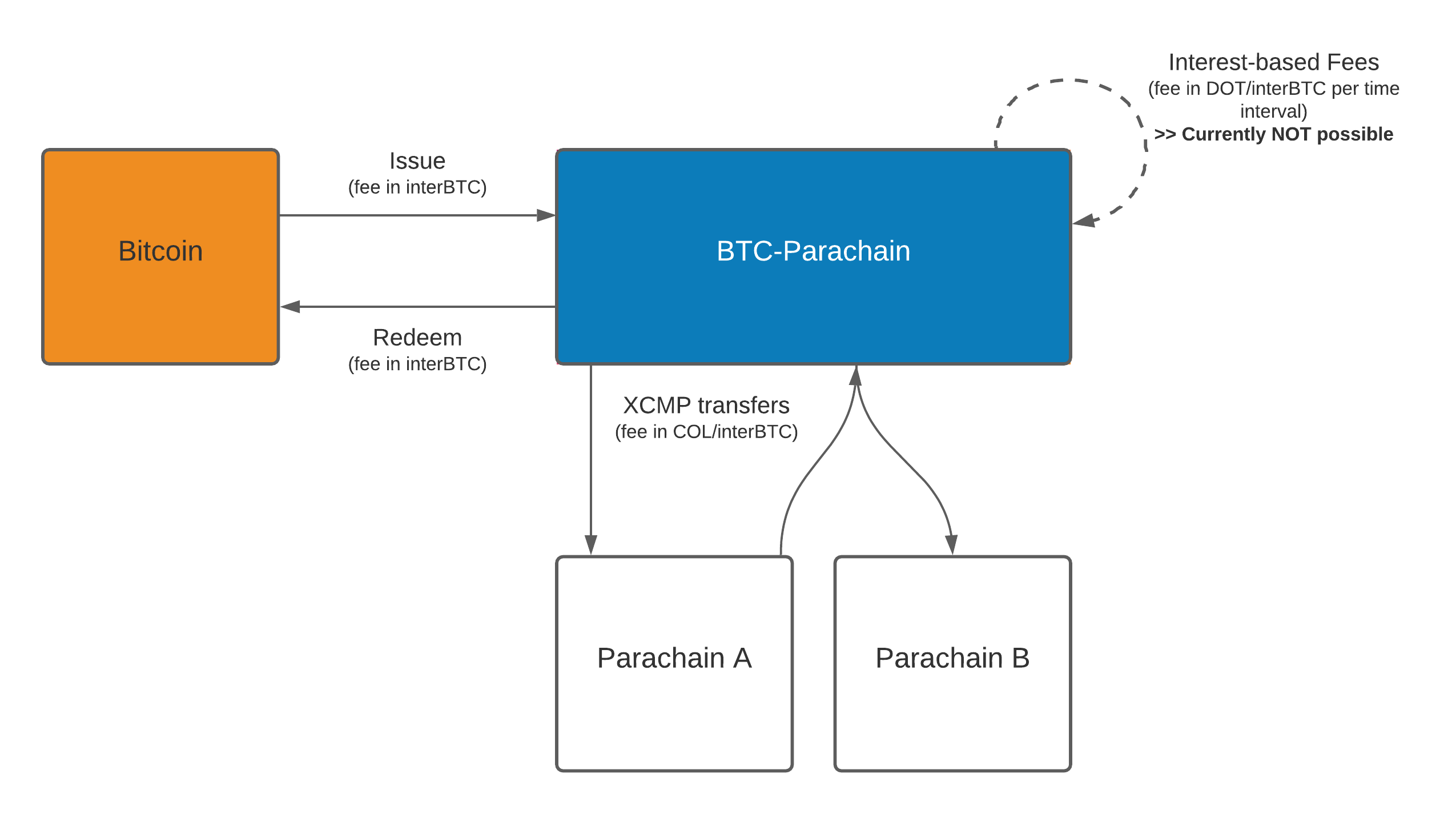 We can classify four groups of users, or actors, in the interBTC bridge.
Below, we provide an overview of the protocol role, the risks, and the economics of each of the four actors. Specifically, we list the following:
Protocol role The intended interactions of the actor with the bridge.

Risks An informal overview of the risks of using the bridge.

Economics An informal overview of the following economic factors:

Income: revenue achieved by using the bridge. We differentiate between primary income that is achieved when the bridge works as intended and secondary income that is available in failure cases (e.g., misbehavior of Vaults or Users).

Internal costs: costs associated directly with the BTC-Parachain (i.e., inflow or internal flow of funds)

External costs: costs associated with external factors, such as node operation, engineering costs etc. (i.e., outflow of funds)

Opportunity costs: lost revenue, if e.g. locked up collateral was to be used in other applications (e.g. to stake on the Relay chain)
Challenges Around Economic Efficiency
To ensure security of interBTC, i.e., that users never face financial damage, XCLAIM relies on collateral. However, in the current design, this leads to the following economic challenges:
Over-collateralization. Vaults must lock up significantly (e.g., 150%) more collateral than minted interBTC to ensure security against exchange rate fluctuations (see SecureCollateralThreshold). Dynamically modifying the secure collateral threshold could only marginally reduce this requirement, at a high computational overhead. As such, to issue 1 interBTC, one must lock up 1 BTC, as well as the 1.5 BTC worth of collateral (e.g. in DOT), resulting in a 250% collateralization.

Non-deterministic Collateral Lockup. When a Vault locks collateral to secure interBTC, it does not know for how long this collateral will remain locked. As such, it is nearly impossible to determine a fair price for the premium charged to the user, without putting either the user or the Vault at a disadvantage.

Limited Chargeable Events. The Vault only has two events during which it can charge fees: (1) fulfillment of and issue request and (2) fulfillment of a redeem request. Thereby, the fees charged for the redeem request must be upper-bounded for security reasons (to prevent extortion by the Vault via sky-rocketing redeem fees).
External Economic Risks
A range of external factors also have to be considered in the incentives for the actors.
Exchange rate fluctuations. Vaults have a risk of having their COL liquidated if the COL/BTC exchange rate drops below the LiquidationThreshold. In this case, the collateral is liquidated as described in Vault Liquidations. Liquidations describe that users can restore the interBTC to BTC peg by burning interBTC for COL. However, in a continuous drop of the exchange rate the value of COL will fall below the value of the burned interBTC. As such, the system relies on actors that execute fast arbitrage trades of interBTC for COL.

Counterparty risk for BTC in custody. When a user locks BTC with the Vault, they implicitly sell a BTC call option to the Vault. The Vault can, at any point in time, decide to exercise this option by "stealing" the user's BTC. The price for this option is determined by spot_price + punishment_fee (punishment_fee is essentially the option premium). The main issue here is that we do not know how to price this option, because it has no expiry date - so this deal between the User and the Vault essentially becomes a BTC perpetual that can be physically exercised at any point in time (American-style).

interBTC Liquidity Shortage. Related to the exchange rate fluctuations, arbitrageurs rely on their own interBTC or a place to buy interBTC for COL to execute an arbitrage trade. In a interBTC liquidity shortage, simply not enough interBTC might be available. In combination with a severe exchange rate drop (more than LiquidationThreshold - 100%), there will be no financial incentive to restore the interBTC to BTC peg.

BTC and COL Liquidity Shortage. interBTC is a "stablecoin" in relation to BTC. Since owning interBTC gives a claim to redeem BTC, the price of interBTC to BTC should remain roughly the same. However, in case interBTC demand is much larger than either the COL and/or BTC supply, the price for interBTC might increase much faster than BTC. In practice, this should not be an issue since the collateral thresholds are computed based on the BTC to COL exchange rate rather than the interBTC rates.

Opportunity costs: Each actor might decide to take an alternative path to receive the desired incentives. For example, users might pick a different platform or bridge to utilize their BTC. Also Vaults and Keepers might pick other protocols to earn interest on their DOT holdings.