Security
The Security module is responsible for (1) tracking the status of the BTC Parachain, (2) the "active" blocks of the BTC Parachain, and (3) generating secure identifiers.
Status: The BTC Parachain has three distinct states: Running, Error, and Shutdown which determine which functions can be used.

Active Blocks: When the BTC Parachain is not in the Running state, certain operations are restricted. In order to prevent impact on the users and Vaults for the core issue, redeem, and replace operations, the BTC Parachain only considers Active Blocks for the Issue, Redeem, and Replace periods.

Secure Identifiers: As part of the OP_RETURN scheme to prevent replay attacks, the security module generates unique identifiers that are used to identify transactions.
Overview
Failure Modes
The BTC Parachain can enter into an ERROR and SHUTDOWN state, depending on the occurred error. An overview is provided in the figure below.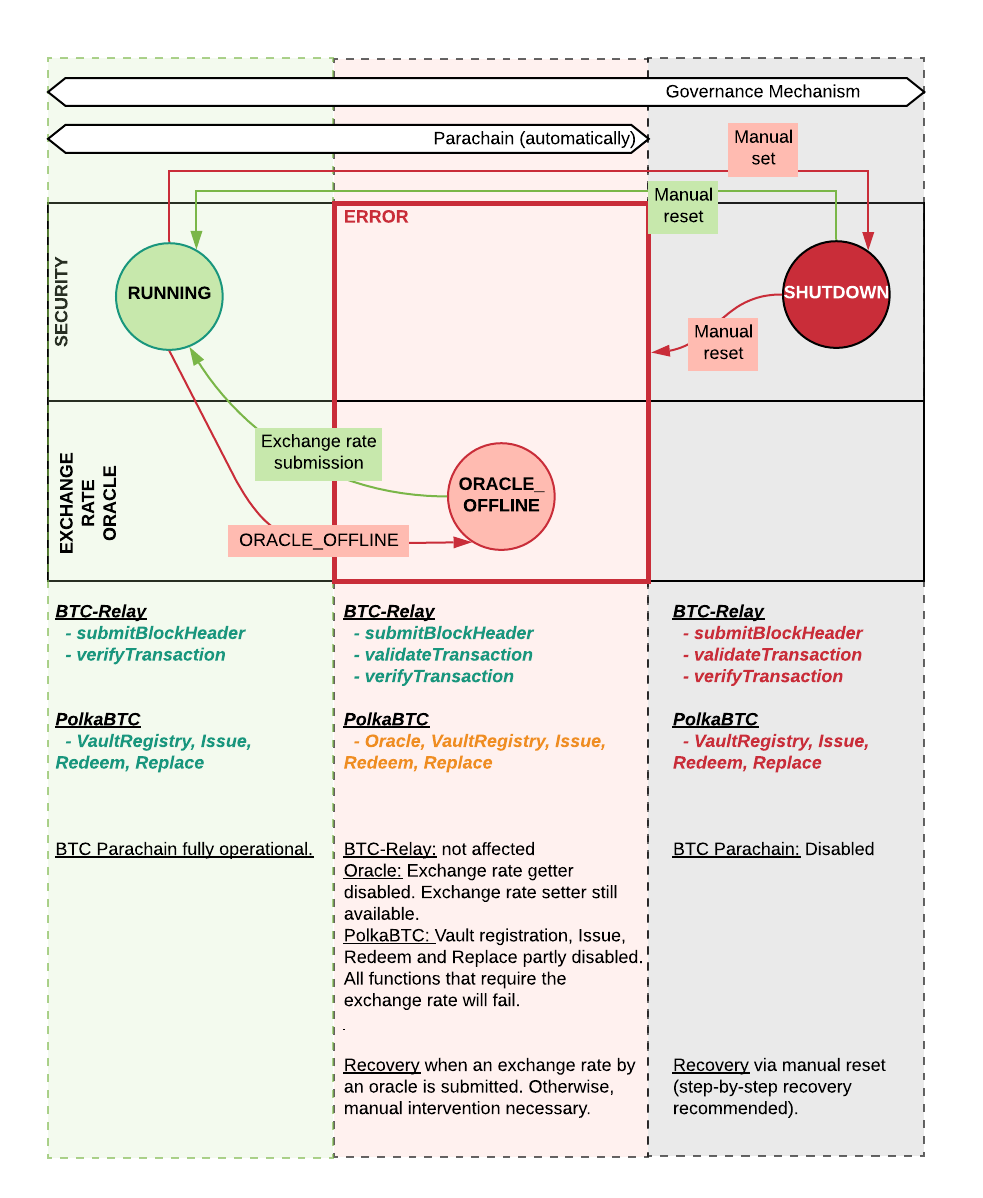 Failure handling methods calls are restricted, i.e., can only be called by pre-determined roles.
Data Model
Enums
StatusCode
Indicates ths status of the BTC Parachain.
RUNNING: 0 - BTC Parachain fully operational

ERROR: 1- an error was detected in the BTC Parachain. See Errors for more details, i.e., the specific error codes (these determine how to react).

SHUTDOWN: 2 - BTC Parachain operation fully suspended. This can only be achieved via manual intervention by the Governance Mechanism.
ErrorCode
Enum specifying error codes tracked in Errors.
NONE: 0

ORACLE_OFFLINE: 1